You only want the best for your health? And you are a tea-lover? Welcome to the club! We are going to initiate you into the world of Matcha and tell you a yummy, juicy recipe for an exclusive Matcha cocktail you can easily do yourself.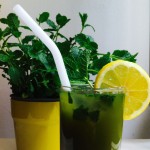 Matcha is a rare, high-quality tea originally from Japan. It is a finely ground, handpicked Green tea with a unique aroma and therefore considered to be high-class and very exclusive. Only the most valuable pieces of the Tencha tea plant are used to get a fresh and intense flavour.
It also holds numerous benefits for our health. Matcha tea has lots of antioxidants which protect us from different cancer types. It is antihypertensive, reduces LDL cholesterol concentration in our blood and most of all, it strengthens our immune systems. So what are we waiting for? Let's get down to the recipe.
How to make your own Matcha Cocktail
 Here is what you need:
2 teaspoons of Matcha
40 ml hot water
4 mint leaves
1 lemon
6 teaspoons Lime syrup (alternatively juice of one lime)
200 ml ice water
Ice cubes and brown sugar (alternatively honey or stevia)
For a cocktail: 2 shots of vodka or sake
What to do:
Let the hot water get cold to 80 degrees celsius (176 degrees fahrenheit)
Mix the Matcha with 40 ml of the warm water
Add the mint leaves and mix it!
Squeeze the lemon in
Add 6 teaspoons of lime syrup or squeeze one lime in
For a cocktail: Add 2 shots of vodka or sake
Now give it some ice water and shake or mix it!
Put some mint leaves on top of the glass to make it look delicious
Enjoy!



Let us know what you think!