There are many benefits to making your own deodorant. Firstly, you save money by not paying for branded product's marketing campaigns and other costs that are not needed when you make your own product! You simply need the base ingredients and you can add your own personalized touch to it! Secondly, there are many harmful added ingredients in conventional deodorants.
5 Harmful Ingredients in Deodorant
Here are 5 common harmful ingredients used in conventional deodorant – and in many other skin care products:
One of the most used harmful ingredient in deodorant is aluminum. It is used to block the sweat that is escaping the pores. Aluminum has been linked to breast cancer in women and prostate cancer in men in several studies.
Concerning breast cancer, the added concern lies in the close proximity of the armpit to the breast tissue. Aluminum is known to be an estrogenic, which means that it acts as the female hormone estrogen. Estrogen promotes breast growth, which can lead to cancerous overgrowth when there is an access.
Another ingredient that some people are familiar with is paraben. It is in most beauty and care products found in stores in the form of methylparaben, propylparaben, butylparaben or benzylparaben. These compounds, similarly to aluminium, are estrogenic as well. They can disrupt hormone balances in our bodies.
A third harmful ingredient in many conventional deodorant and other skin care products is propylene glycol (PG). It is a compound that helps to make skin care products easier absorbed by the skin. It is a cheap way to give a softer consistency to cosmetic products and it is even used in processed foods.
It is questioned by consumer safety advocates if it is safe in small amounts, since in large quantities it damages the liver, heart and nervous system. In deodorant higher concentrates of PG are used than in other skin care products.
Phthalates have been linked to various health issues. They act as hormone disruptors and increase the risk for cell mutations. High phthalate levels in women of child bearing age are linked to an increased risk of birth defects.
The synthetic antibacterial compound Triclosan is registered by the US Environmental Protection Agency (EPA) as a pesticide and it is classified as a chlorophenol – chemicals suspected of causing cancer in humans. It is also a hormone disruptor, which in the long run can decrease fertility, change genetic material and increase the risk for birth defects.
And thirdly, when we buy products that are ultimately bad for our health we are actually supporting the manufacturing of these products. This way we are contributing to the public health issue of more chemicals in our every day products, environment and our bodies… So by opting out and making your own deodorant – or buying one that is health-conscious and environmentally-friendly, you are making a statement that you care about the health of others and yourself. Who doesn't love that? 🙂
---
As we've shown you how it is both better for your physical, mental health and financial health, now let us reveal how to make your own deodorant from ingredients that you might already have in your home! With just 3 base ingredients and in 3 simple steps!
TIP! Since it's easy to make large batches, you can hand it out to your friends. It will be a unique and caring gift!
You will need…
An empty container (e.g. a lip balm container)
6 table spoons of coconut oil
4 table spoons of baking soda
4 table spoons of corn starch e.g. maizena
 Personal touch: A few drops of your favorite essential oil for fragrance (e.g. rose, lavender, eucalyptus)
Step one:
In a pan let the coconut oil melt on a low temperature. Make sure it does not boil; this step is simply to make the coconut oil liquid so that the other ingredients can be mixed into it.
Step two:
Add the baking soda, corn starch and essential oil into the melted coconut oil and stir until completely blended.
Step three:
Pour the mixture into the containers. And put it in the fridge to let it cool and solidify.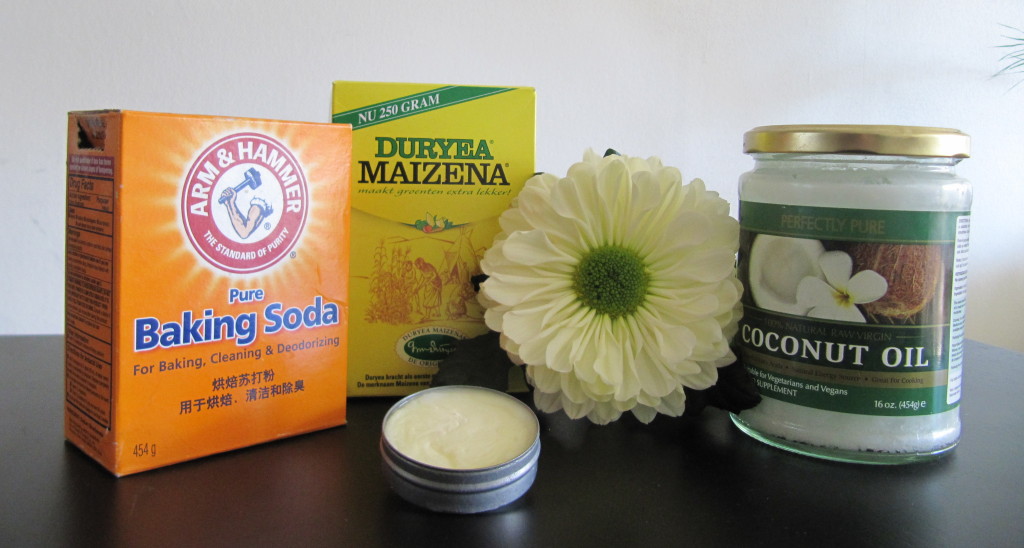 That's it! Enjoy your homemade, health-conscious deodorant!
(Visited 256 times, 1 visits today)
Comments
comments